Laverne Cuave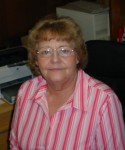 Deceased 12-15-2019
LaVerne Cuave, was office Manager for 30 years of Service she passed on 12-15-2019. She is in Heaven now.
High School Graduate,. Completed a Comprehensive Course in Property and Liability Insurance conducted by the Travelers School for Multiple Line Agents.
Attended many schools on Property and Casualty Insurance put on by the Independent Insurance Agents of Louisiana (Big I).